Helen J Saberi

biography & publications
Helen J Saberi worked with Alan Davidson on the Oxford Companion to Food from the early 1990s up to 1999, the year of publication. Her outstanding contribution is acknowledged, along with the help of many other people, in the introduction to the book.
Helen is from Yorkshire, but joined the British Foreign Office and went abroad, to Poland and Afghanistan, under its auspices. While working in the British Embassy, Kabul, she met the Afghan who became her husband and with whom she returned to England when the war in Afghanistan made it impossible to stay there. The knowledge she acquired of Afghan food and cookery, and her desire to help the people of Afghanistan to preserve their culinary heritage, led her to write a major book on the subject: Noshe Djan - Afghan Food and Cookery. Alan and Jane Davidson were editors and publishers of this work, which will at the beginning of the new millenium come out in an expanded second edition (from Prospect Books in the UK, and from Hippocrene Books in the USA). The book was illustrated by the Afghan artist Abdullah Breshna, one of whose drawings is incorporated in the cover of the book.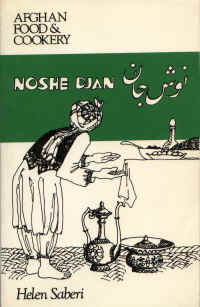 Noshe Djan

by Helen Saberi

ISBN 0 907325 32 7
In addition to this major work, Helen is the author of numerous important articles and essays, prepared for delivery at the Oxford Symposium on Food or publication in Petits Propos Culinaires. These include the following:
Papers published in the Oxford Symposium on Food and Cookery documents:
| | |
| --- | --- |
| | Public Eating in Afghanistan 1991, 258 |
| | Rosewater, the Flavouring of Venus, Goddess of Love and Asafoetida, Devil's Dung 1992, 220 |
| | Silk Kebab and Pink Tea 1993, 187 |
Articles and published in Petits Propos Culinaires:
| | |
| --- | --- |
| | Another Rhubarb Question (NQ) 39,67 |
| | Leg of Lamb and Thou… (NQ) 31,54 |
| | Purple Rice (NQ) 50,63 |
| | A Spicy Mystery, Part Two 48,10 |
| | A Turk's Head (NQ) 54,64 |
| | Where are the Pouting Nibblers of Yesteryear? Or, What Happened to Boudoir Biscuits? 49,42 |
| | Whims and Fancies of a Trifle-Lover, or, 'An Idle Tale, A Thing of No Importance' 50, 11 |
Saberi, Helen (with Anissa Helou and Esteban Pombo-Villar)
| | |
| --- | --- |
| | A Spicy Mystery, or …with soap on our hands and foam at our mouths… 47,8 |
Helen Saberi can be contacted by e-mail at hel@aed.demon.co.uk